Finding Brand Distinction in a Crowded Market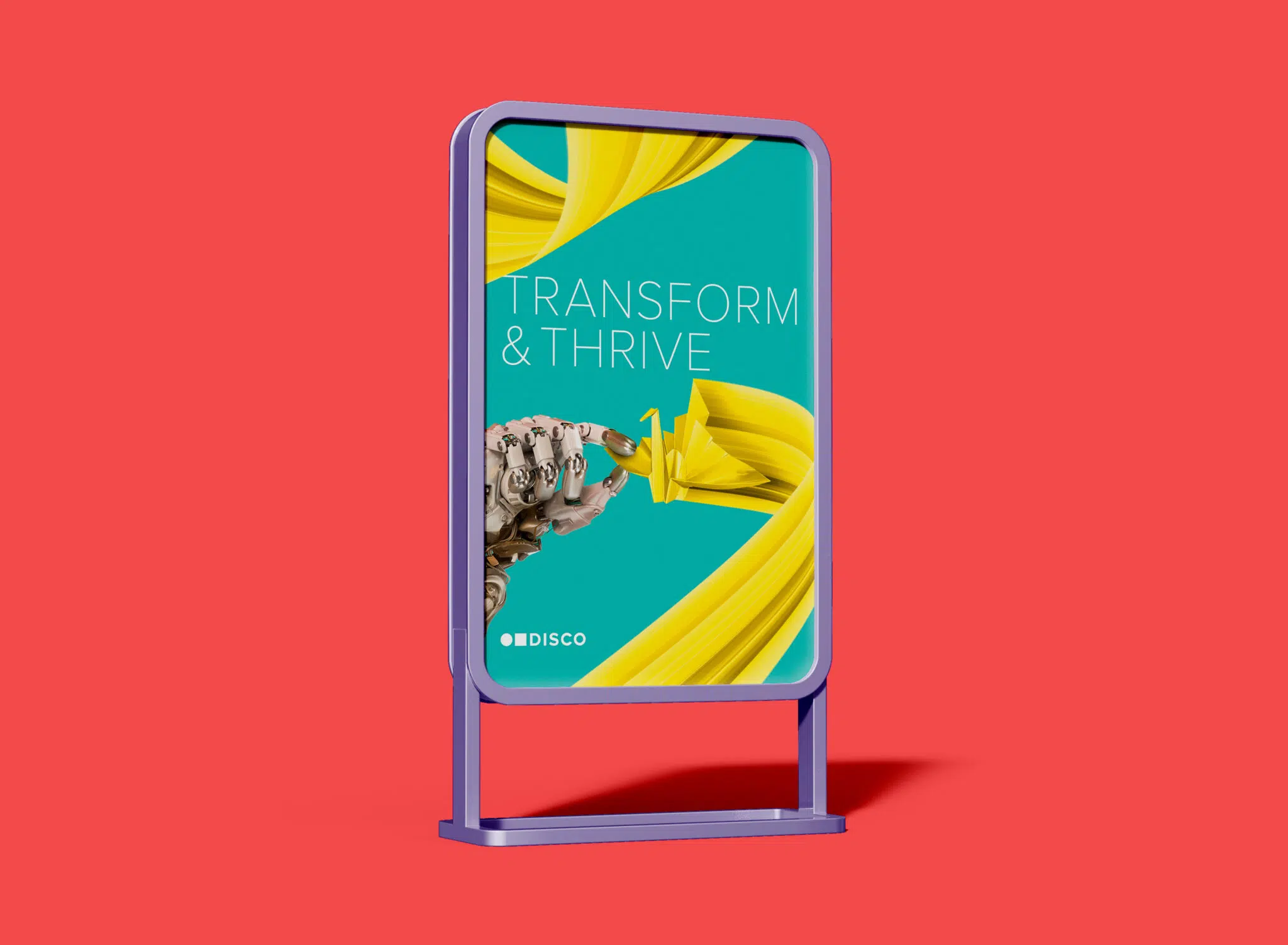 On a mission to break the legal tech status quo and stand out against the backdrop of saturated messaging, DISCO needed to raise awareness of and drive demand for the agility and flexibility that its transformational tech offered its customers.
DISCO is one of the most innovative legal technology platforms in the US, but, outside the States, knowledge of the brand is limited. To raise the brand profile of DISCO in Europe, April Six needed to work as an extension of the DISCO team to develop an unforgettable campaign that would appeal to two distinct audiences⁠—law firms and corporate counsel—and help the brand gain the recognition it deserved while complementing the distinctiveness of the technology it delivers.
Despite the ubiquitous use of 'transformation', there's no one accepted definition—which makes its intent often unclear. For DISCO, a company that delivers performance-enhancing software that truly improves legal outcomes, the messaging and visual treatment needed to stand apart from the market's 'transformation saturation' and be meaningful and distinct.
We created the 'Transform & Thrive' campaign. As 'Transform' continues to be a central pillar of the DISCO story, its inclusion was paramount. But by using a benefits-focused communications strategy and fluid visual effect that focused more on the outcome of a transformation, not the transformation itself, we were able to showcase the limitless potential and possibilities that could be unleashed when our audience choose DISCO—bringing the notion of 'Thrive' to the fore.
'Transform & Thrive' is an emotionally-driven concept that lets DISCO refocus its communications on the benefits of transformation, not on its necessity for survival like the rest of the market, it also dovetails with its brand promise of 'improving legal outcomes'. April Six brought this campaign to market with a full-funnel content strategy made up of 200+ custom elements that used localized narrative and storytelling to inspire action in both UK and US markets, including:
Thought leading whitepapers
Opinion blogs
LinkedIn social assets
Content syndication
Digital web banners
Email header images
Web page copy and design
Custom web development
Live-action videos
3D video animations
At-a-glance one-pagers
And case studies